40 Years of Accomplishments
The Palm City Chamber of Commerce has been in business for over 40 years. That's over 40 years of accomplishments and change in the community.
2nd SPAN OF PALM CITY BRIDGE

Mr. James Ware, Project Engineer Cone Constructive, Inc. addressed and answered questions at the April 1990 breakfast meeting of Chamber members with the plans for the new span, as the chamber wants to cooperate and insure that everything possible is done from our end to make the construction effort go as quickly and smoothly as possible. Construction was scheduled to commence by the end of June. The second (2nd) span over the River opened October 23, 1991
GROWTH FOCUS—Brings Town Hall Meetings
In 1990, as development projects rose through the city, residents and chamber members held their 1st Town Hall Meeting—170 residents gathered in Palm City Elementary to ask officials from the county, commission, school board and Sheriff's Department for answer of how their city will be affected from proposed and approved projects.
PALM CITY PARK—Finally Finished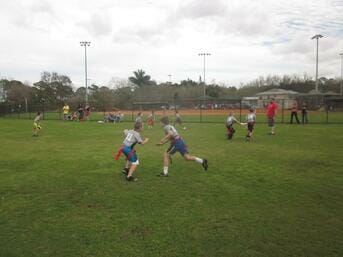 It took 3 years to finish, but the wait was finally over May 15, 1991. The original park with several ball-fields as its  only amenity, will now feature 31 acres of activities including horseshoes, a fitness center, picnic shelters, restrooms, racquetball, tennis courts, softball baseball fields and a soccer field.
Renamed Lance Corporal Justin Wilson Memorial Park
1-95 INTERCHANGE OPENS TO TRAFFIC
State Senator William G. Myers and other dignitaries opened the barricades to the new interstate 95 interchange in Palm City, November 22, 1991. After nine months of construction, 4 years after so-called missing link of 1-95 opened, exit 61C (now exit 102) opened with a slight delay and only a little bit of ballyhoo. Life became easier for Palm City Residents with the opening of the High Meadow interchange in 1991 and alleviated traffic on the Palm City Bridge by linking the interstate to Martin Downs Blvd.
CHAMBER MEMBERS SUPPORT PENDARVIS COVE PARK PROJECT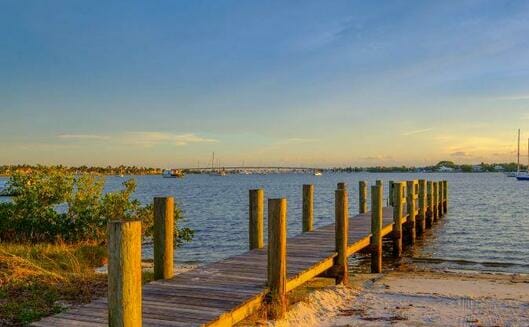 In 1987 the 44-acre waterfront parcel of land at the end of Mapp Road was offered by the South Florida Water Management District to the County for development as a park according to Chamber Vice President, Dr. Rex Sentell. The County Board of Commissioners will review the phasing plans, cost estimates and a list of possible funding. Opened in 1994 with 6 shelters with grills, an extended dock for fishing and rack for launching canoes and passive boating vehicles.
PETER AND JULIE CUMMINGS/PALM CITY LIBRARY

The original Library was built in 1995 but was closed for renovations and expansion for over a year while new features were added. It re-opened on May 11, 2009 with an expanded meeting room, coffee bar, inter generational area including Teen Zone with computers, and an exploration lab in Children's World that gives a view of the wetlands. In 2011 a 2nd floor was added to the library.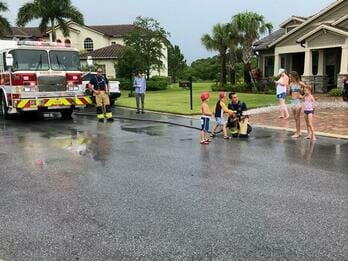 On May 19, 2004 Palm City opened the new Fire Station on Mapp Road.
In the fall of 2008  Citrus Blvd. in Palm City was opened and extended west from Hwy. 714 to Port St. Lucie Blvd. Connecting Palm City to the town of Port St. Lucie, Florida.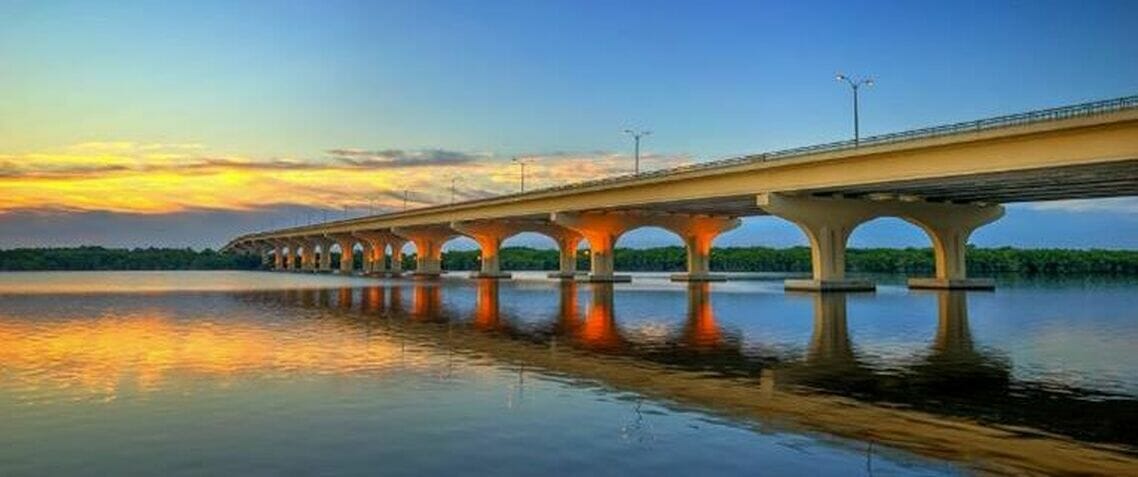 1994 plans for the Indian River Street Bridge began, in 1997 construction is approved for $22.8 million but was delayed by court challenges. A project nearly 26 years in the making officially broke ground on April 18, 2011. It was originally dubbed the Indian Street Bridge, before being renamed in 2011 during the 10th Anniversary of September 11, 2001—was borne of controversy … but now residents, walkers and drivers love it!
The bridge was dedicated and officially opened Saturday, November 16, 2013 with the first day of use for auto traffic and joggers the evening of Saturday, December 21.
​NEW SIGNALS ADDED TO MARTIN HIGHWAY
Two (2) new traffic signals on Martin Highway in Palm City were installed in February 2012, a step toward managing heavier traffic with the opening of the new Veterans Bridge next year. Thanks to Hal Smith a Whispering Sound community and Commissioners Ed Caimpi.
TEEN CENTER BREAKS GROUND
The Boys & Girls Club of Martin County held a groundbreaking on June 28, 2012 for its new teen center to be located at the H. Wayne Huizenga branch in Palm City. The teen program named "The Club" was modeled after a teen initiative designed by the Boys & Girls Club of America that provides a basic programmatic structure by encourages innovation and flexibility at the community level.

Construction on a project to build a baseball complex in western Palm City started in the summer of 2013. The development would place four ballparks on an approx.. 26-acre field at the northern property line of Citrus grove Elementary School between the Florida Turnpike and Southern Citrus Boulevard.
NEW CUSTOMS FACILITY COMES TO MARTIN COUNTY

Nearly 10 years ago the Stuart and Palm City Chambers of Commerce, and the Economic Council of Martin County dreamed of having a facility to welcome international travelers coming by boat or air to clear customs in Martin County, instead of having to go through Fort Pierce or West Palm Beach. Many local business owners and residents supported the project that was finally approved by County Commissioners in 2010 with construction starting in August of 2017. The facility locates at 2011 SE Airport Road, Stuart will finally open in early 2019 at a cost of approximately 1.7 million.
The Old Palm City CRS plan and concept from a decade ago ( early 2000's) was for a Mapp Road that looked a lot like an old fashioned friendly downtown. According to Project Manager Jordan Pastori, (Phase One) engineering and storm-water projects are complete and (Phase Two) "Town Center" is planned to start in late Spring of 2019, and should take approximately 10 months to complete. They will include one-site parallel parking, shrubs, street lights, sidewalks, benches, trash bins, bike racks and crosswalks. Trails around the ponds will be added in (Phase Three).